2023
Community, well-being, and opportunities for LGBTQ+ people in the Northern Regions of Armenia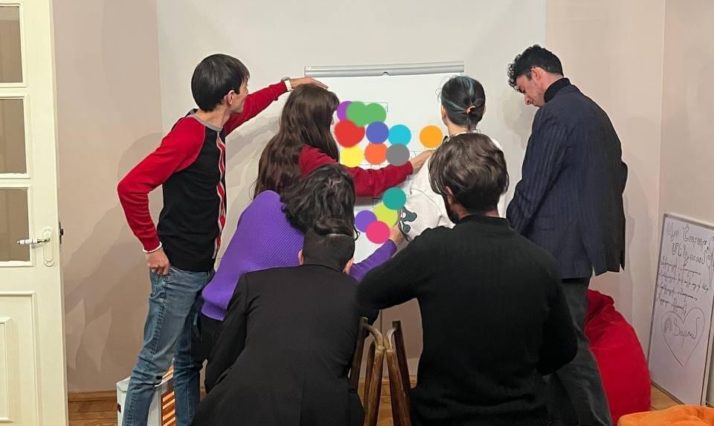 This initiative was supported by The New Democracy Fund through the New Cooperation Mechanism.
About the project
Pink Armenia and LGBT+ Denmark have come together in a collaboration to support marginalized communities in Armenia. Their shared goal is to bolster well-being and expand opportunities for LGBTQ+ individuals in a region where they often encounter prejudice and marginalization, particularly in areas like family dynamics, professional environments, and civic engagement.
The project's focus is on establishing secure havens such as LGBTQ+ community centers, extending essential services, and delivering training that are aimed at empowering LGBTQ+ individuals to access gainful employment within workplaces that are inclusive and welcoming to all.
The overall purpose of the project is to strengthen communities, enhance well-being, and widen opportunities for LGBTQ+ community members in Armenia, especially in the regions of the country.
About the organisations
LGBT+ Denmark, The Danish national organisation for lesbian, gay, bi/pansexual, transgender, and queer people is an NGO working with SOGIESC rights at all levels (local, national, regional, and international). In Denmark, it aims at influencing the political agenda concerning development cooperation, that is, putting LGBTIQ+ issues on the agenda of the Ministry of Foreign Affairs and NGOs working with development through workshops, participation in public debates, and engaging in concrete projects.
Pink Armenia, an Armenian NGO, champions LGBTQ+ rights and well-being. Founded in 2007, it combats discrimination, fosters equality, and supports LGBTQ+ individuals through campaigns, advocacy, and resources. The organization is known for its efforts to promote equality, fight discrimination, and provide support for LGBTQ+ individuals in Armenia with comprehensive package of counseling services. This organization strives to challenge societal biases and cultivate an inclusive environment for the LGBTQ+ community in Armenia.
Project details
Country
Armenia
Thematic areas
Gender equality
Funding
New Cooperation Mechanism
Time frame

September 2023 – August 2024