2022
Strengthening democratic culture through gender justice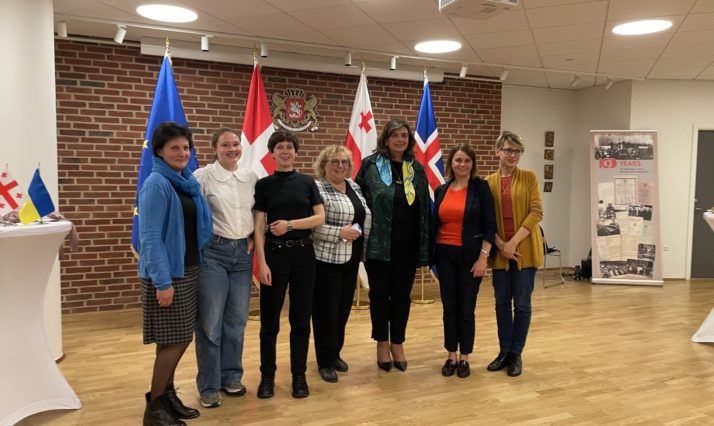 This initiative was supported by The New Democracy Fund through the New Cooperation Fund.
About the project
This project focuses on the study of young people's perceptions of gender stereotypes in Ukraine. The overall purpose is to support gender justice in Ukraine and strengthen democracy.
Gender justice is key to democratic culture. Therefore, the project's overall purpose is to improve gender justice efforts through a new partnership between KVINFO and three strong, Ukrainian women's rights organisations. The project aims at exchanging knowledge and experience on gender justice, focusing on youth, and contributing to developing a more democratic culture.
About the organisations
KVINFO is Denmark's knowledge center for gender and equality. KVINFO works at the crossroads between knowledge, politics, and practice. As a knowledge center for gender and equality, they create overview, research, and knowledge on the field and bring this knowledge into play broadly to decision-makers, media, companies, organizations and the public in Denmark and internationally.
Ukrainian Women's Fund (UWF) is an international charitable organisation founded in 2000. The UWF provides support to civil society organisations in Ukraine, Moldova and Belarus. The UWF is a member of International Network of Women's Funds PROSPERA and the Ukrainian Philanthropists Forum. With the support amongst others, from Canada, UWF assists women's NGOs and other CSOs to develop the women's movement that aims at gender equality and empowering women in all sectors of life.
Insight is the organiser of the 8th March celebrations and a leading LGBTIQ+ organisation. It fights against inequality through legal protection; educational and cultural activities; through advocacy, and service delivery such as psychological support, medical counselling, legal support, and resource assistance to the LGBTIQ+ community.
Women's Perspectives promotes gender equality in all spheres of social life and supports women's leadership, counters violence against women, domestic violence, and human trafficking. It provides support, training sessions and legal services for individual women and organisations.
Project details
| | |
| --- | --- |
| Country | Ukraine |
| Thematic areas | Gender, Youth |
| Funding | New Cooperation Fund |
| Time frame | January – December 2022 |
| | |