2023
Film Mosaic 2024: Leave No One Behind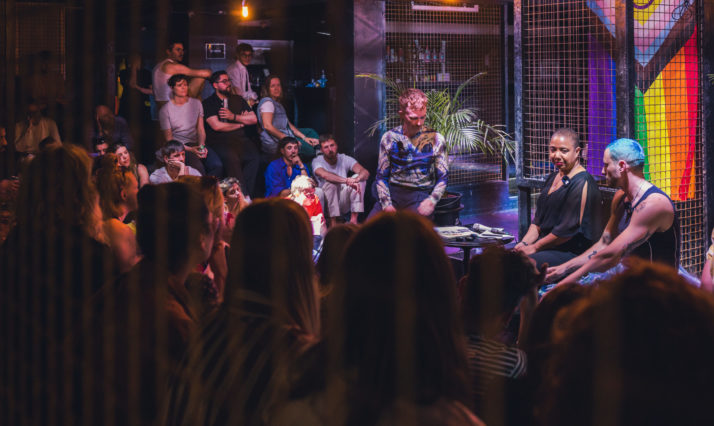 This initiative was supported by The New Democracy Fund through the New Cooperation Mechanism.
About the project
The Film Mosaic 2024: Leave No One Behind is the second iteration of the successful film & architecture project by Copenhagen Architecture Festival (DK), Tbilisi Architecture Biennial (GE), Queer Art Fest Baku (AZ), and Pink Armenia (ARM).
Breaching education, digital media, creative labour, and youth culture, the intervention facilitates the production and exchange of knowledge using film and architecture to explore social and environmental justice in the capital cities of Georgia, Denmark, Azerbaijan, and Armenia.
After a cycle of open public lectures, aimed at catalysing urgent conversations about sustainable urban futures in the local communities, young local creatives will be selected to partake in the Film Mosaic Fellowship program, which will provide funding and mentorship for the production of films about the pressing gender and ecological issues of each city. Participants will travel across countries, learn from each other and disseminate their work.
The Film Mosaic's ultimate objective is to create a safe platform where young creatives, women, and queer people from Georgia, Azerbaijan, and Armenia can grow professionally, meet and discuss the most crucial urban issues affecting their countries, intersecting social and environmental justice, making the voices of minorities heard.
About the organisations
Copenhagen Architecture Festival, the biggest architecture festival in Scandinavia and the biggest film and architecture festival in the world, is a well-established institution working at the intersection of film and architecture. The focus of the festival has since its inauguration been on the social and political aspects of architecture and urban planning, exploring and communicating how building practices are shaped by politics and ideology, while at the same time framing and impacting our behavior.
Tbilisi Architecture Biennial was founded in 2017 and gathers professionals from diverse disciplines, policymakers, stakeholders, and the local public to critically discuss a topic connected to architecture and urban issues.
Queer Art Fest Baku (QAF) is born from Nafas LGBTI Azerbaijan Alliance, the only association advocating for the human rights of LGBTI + people in the country. Since 2020, QAF works to create a safe platform for queer Azeri artists and creatives to express themselves and spread their work without fear of repercussions, support each other and network. Moved by a strong socio-political impulse, QAF's initiatives take urban questions as their starting point and give visibility to the experiences of vulnerable minorities, shedding light on the intersection between gender identity and race, health and economic status.
Pink Armenia is an Armenian community based LGBTIQ+ organisation founded in 2007. Their vision is a society where human rights of all are protected and everybody is accepted regardless of sexual orientation, gender identity and/ or gender expression (SOGIE). PA creates safe spaces for LGBTIQ+ persons by promoting well-being and protection in all spheres of life, which includes health care awareness and service provision, including sexual reproductive health and rights, human rights protection, including legal aid, and community centres as physical safe space.
Project details
| | |
| --- | --- |
| Country | Azerbaijan, Georgia, Armenia |
| Thematic areas | Media |
| Funding | New Cooperation Mechanism |
| Time frame | September 2023 – July 2024 |
Photocredit: Francesco Martello