2023
The People's Summit in Denmark 2023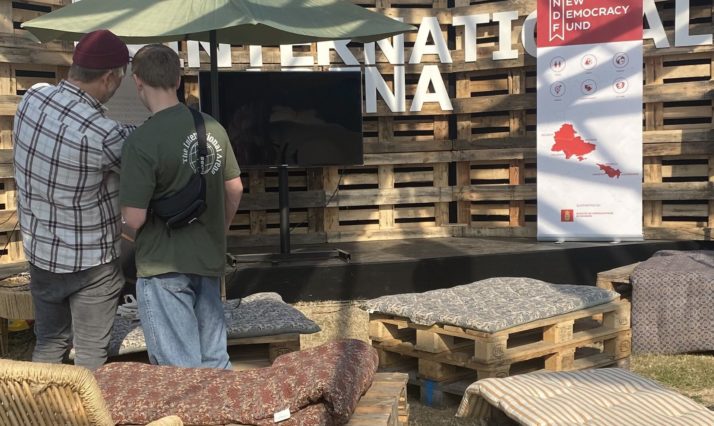 Since the full-scale invasion, Ukraine has had an intensive focus in our work on supporting civil society in the Eastern Neighbourhood Countries. This was reflected in our participation at the Danish democratic festival, Folkemødet, this year, where we highlighted the challenges facing Ukrainian civil society.
"The last year we learned that democracy cannot be taken for granted, the way we live in Europe does not necessarily last forever (…). The war is a wake-up call for everybody on the European continent."
This was made clear by Mykhailo Vydoinyk, Ambassador of Ukraine in Denmark, when we, together with all consortium partners, discussed how the war in Ukraine has affected work and cooperation in different parts of civil society: media, labour market, culture, and youth.
The war has changed the way we work, not only in Ukraine. During one of our talks, our challenges and learnings were shared  by a representative from each of the sectors we work in:
Henrik Underbjerg from IMS (International Media Support), Marie Gad Hansen from DI – Dansk Industri, Lucas Skræddergaard from DUF – Dansk Ungdoms Fællesråd, Morten Ryom from 3F – Fagligt Fælles Forbund, and Camilla Mordhorst from Dansk Kulturinstitut.
We also had the honor of giving voice to young perspectives on the war, when we, together with photographer Martin Thaulow, and Jane Evguenia Klementieva Holm, Head of the New Democracy Fund's secretariat, invited the 15-year-old Ukrainian Lidia to Folkemødet on a live connection from Mykolaiv. During this event, she engaged in a dialogue with Danish school children, thereby, bringing the harsh reality of Ukraine a bit closer to the Danish audience, and making Danish kids reflect on how to build a better future for Mykolaiv and Ukraine.
For us, it is a necessity to maintain a global perspective – the biggest challenges facing the world today are global in their nature. Therefore, we are proud to have contributed to strengthening the international agenda on Folkemødet.
Thanks to our partners at the International Arena: Dansk Kulturinstitut, IMS (International Media Support), DIPD – Danish Institute for Parties and Democracy, DIIS – Danish Institute for International Studies, and Det Udenrigspolitiske Selskab.