2022
The Cultural Summit in Denmark 2022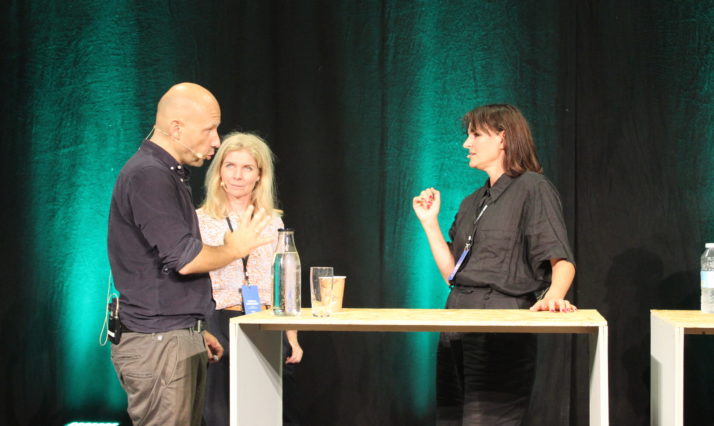 Together with consortium Danish Cultural Institute the New Democracy Fund was represented at the Cultural Summit in Denmark in 2022, where the fund curated two events that discussed the value of cultural diplomacy in two very different ways – a classic talk and an informal music quiz.
Talk: Art and culture in conflict and crises
The talk "Art and culture in conflict and crises" focused on art and culture's role in a world where basic democratic rules are being disregarded. Can art and culture build bridges at a time when new defences and walls are emerging ? – was asked from the stage. Together with the panel we looked back at the role and impact of international cultural exchange since World War II to learn how best to act in an increasingly polarised world.
What are we fighting for? Culture can remind us, but how do we ensure that culture is not taken hostage in a game of big politics? These was the main questions discussed by the panel:
Gry Worre Hallberg, Artistic director og the Danish performance group Sisters Hope
Peter Viggo Jakobsen, Associate Professor in International Politics, Institute for Strategy, Royal Danish Defence College
Kasper Holten, CEO Royal Danish Theatre
Camilla Mordhorst, CEO Danish Cultural Institute and Head of the Steering Group, New Democracy Fund
Moderator: Journalist and historian Adam Holm
Quiz: Eurovision Song Contest – politics or entertainment?
During the summit we challenged two teams in their knowledge about the diplomatic and political side of the world's biggest music competition – the Eurovision Song Contest.
Eurovision began as a soft diplomacy move to ensure peace in Europe and strengthen the ties between the European countries after World War II. Ever since, Eurovision has insisted on not being political, but is that really the case?
We quizzed us through the tunes from the Eastern Neighbourhood Countries to learn more about issues such as: What is the significance of Eurovision in Ukraine and Eastern Europe – and the world in general? What diplomatic trends can be spotted in the show?
We looked at the political aspects of the show and focused on how and why the show has been (and is) political.
The Cultural Summit 2022