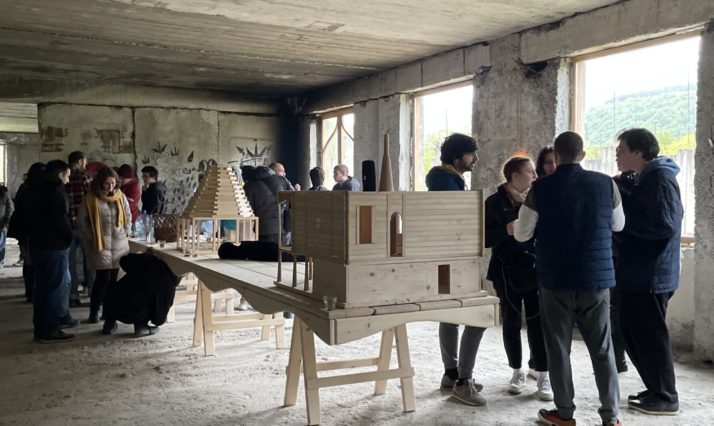 This initiative was supported by The New Democracy Fund through the New Cooperation Fund.
About the project
The Oni Hub-in project aims to develop the Georgian rural district of Racha's traditional wooden construction types towards a self-sustaining and sustainable building culture that includes cultural heritage, commercial production of timber and building parts, tourism, and sustainable forestry in a framework of mutual respect, cooperation, and democratic responsibility.
The district of Racha has for several years been connected to Danish Christmas tree seed producers who have developed both commercial and people-to-people connections to the remote province, which is rich in native natural forest. But opportunities in the area are stagnating in line with the industrialization of the surrounding community, and young people, especially women, are lacking education and job opportunities. There is political will for sustainable growth in the region, but hardly any experience basis. This project is using good relations with Danish partners to develop an innovative and interpersonal collaboration based on mutual exchange of experience.
About the organisation
Royal Danish Academy – Institute of Architecture and Culture focus on the qualities of traditional wooden houses, both because wooden construction is a CO2-reducing alternative to concrete construction and because regional building customs are well-suited to the local climate and materials. In addition, traditional construction – as cultural heritage – can be a significant cultural place and identity marker. In their research and teaching, IAC explores how to apply the knowledge and practice of regional architecture to industrialized production and contemporary aesthetics.
Oni Municipality is forward-thinking when it comes to the challenges of rural areas and is seeking sustainable and ethically sound ways of utilizing natural and cultural resources to create jobs.
Oni Carpentry School is teaching carpentry and woodcarving, which are important aspects of Oni's culture.
Fair Trees Fund is a Georgian NGO whose purpose is to support Georgia's achievement of the Global Sustainable Development Goals. The Fund distributes Fair Trade premium from global sale of Racha's Christmas tree seeds into local, socially sustainable projects.
Free university of Tbilisi – Visual Art, Architecture, and Design School (VAADS) is a department of Free University in Tbilisi, that focuses on traditional stone and wood construction and most teaching courses take place in direct contact with the built environment in the city and in the countryside. More and more Georgian women are joining the architectural profession, and VAADS works for equality in learning spaces and in crafts.
Dinesen is a Danish and international manufacturer of wooden floors. Dinesen works purposefully with sustainability in wood production and is closely involved in the forestry of its suppliers. Craft, tradition, and nature are important values for Dinesen and the company has managed to stay true to them even as they have scaled up their production.
Project details
| | |
| --- | --- |
| Country | Georgia |
| Thematic areas | Youth, Culture, Labour Market, Climate, Gender |
| Funding | New Cooperation Fund |
| Time frame | October 2021 – December 2022 |
| | |
Pictures from the project