17 · 02 · 2022
High hopes for a media reform in Moldova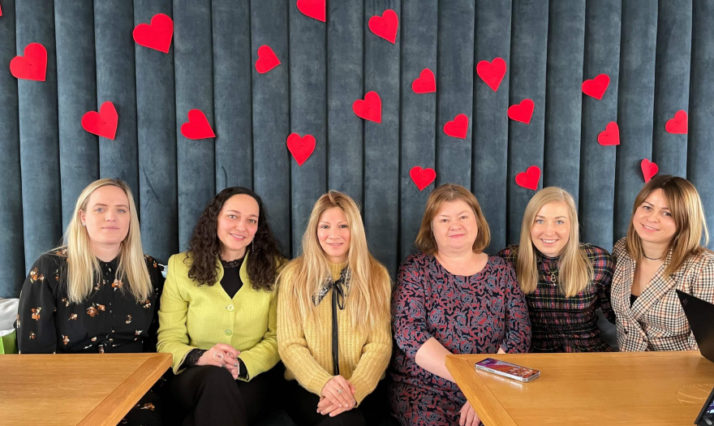 Our consortium partner, International Media Support (IMS) has traveled to Moldova to engage in the country's media reform process and meet with New Democracy Fund partners.
In this post Head of Global Response Department at IMS Gulnara Akhundova shares insights from her recent trip to Moldova:
I am walking back from my meeting with people from a key parliamentary committee and as I wait for the elevator, I suddenly note that this is one rare – and precious – moment in my long career in advocacy: I get to leave a meeting with a politician with a list of action points in my notepad. Liliana Nicolaescu-Onofrei, Chairwoman of the Parliamentary Committee on Culture, Education, Research, Youth, Sports, and Mass Media, with whom we just met, has made me feel hopeful.
I am in Chisinau, the capital of Moldova. An attractive city destination for wine lovers with funky remnants of brutalist architecture. Normally a very lively city, now Chisinau is somewhat quiet, a consequence of a new round of Covid-19 restrictions introduced just before our arrival.
I am here with other colleagues from IMS, on mission to contribute to a newly ignited media reform process in Moldova, where hopes are high for a democratic change after the pro-European Party of Action and Solidarity (PAS) won a clear victory in Moldova's parliamentary elections in July 2021.
Cake is served at one of the city's popular cafes as we speak to a group of journalists and cultural rights activists, with whom we are engaged in the New Democracy Fund.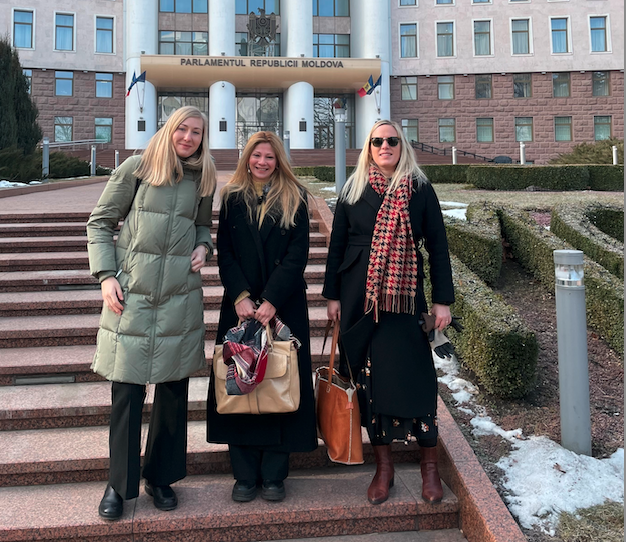 The skies above Chisinau are clear, and the lawn in front of the parliament with the lovely small bushes spelling out the country's name looks so attractive, so we stop by for a photograph.
One of our interlocutors is Cornelia Cozonac, Director of the Investigative Journalism Center of Moldova. Her organisation works to strengthen the capacity of investigative journalists and create impact of investigations by raising awareness.
One example of the impact of the Investigative Journalism Center's work is a criminal case filed by the Anti-Corruption Prosecutor's Office against a crooked lawyer involved in a corruption scheme. This was made possible because of a journalistic investigation and several years of fight back against harassment.
In another example and as the Kremlin disinformation continues to threaten a democratic order in Moldova and elsewhere, the Investigative Journalism Center's investigation reveals how Telegram has become a home for dozens of "fake news labs" for the media controlled by pro-Kremlin forces.
With the new government committed to democratic reform and a push against corruption there is now momentum for Cornelia and her colleagues in the media sector to achieve more with their journalism.
Back to my feeling of hope in the elevator: Liliana Nicolaescu-Onofrei, Chairwoman of the Parliamentary Committee on Culture, Education, Research, Youth, Sports and Mass Media, will oversee the finalisation, adoption, and implementation of Moldova's first-ever Action Plan for Media Development.
The plan was drafted by Association of Electronic Press and Association of Independent Press, IMS partners in Moldova who are at the forefront of the media reform process. A willingness to adopt and implement such a plan speaks of genuine commitment and promise for future media development efforts.
In most of the countries where IMS operates, media support is only poorly integrated into government agendas and plans. Having a dedicated strategy for media development will be a game-changer for the media development sector in Moldova and create space for a constructive dialogue with the state.
But even though the victory of the PAS in the 2021 elections can be seen as a watershed moment in the path towards democracy in Moldova, a parliamentary majority alone will not be enough for reform. Active engagement of civil society in the policy-making processes and strong, independent media that informs the public debate with robust, ethical and gender-sensitive journalism will be vital for building democracy in Moldova.
The overall objective of the New Democracy Fund is to strengthen democratic organisation of the civil society, build regional networking and people-to-people exchange of experiences, amongst civil society organisations in Armenia, Azerbaijan, Belarus, Georgia, Moldova, Ukraine, and Denmark. We operate within 6 thematic focus areas: media, youth, labour markets, culture, gender, and climate.
Read more about the New Democracy Fund's support to media freedom in Moldova.