14 · 03 · 2021
Online launch of The New Democracy Fund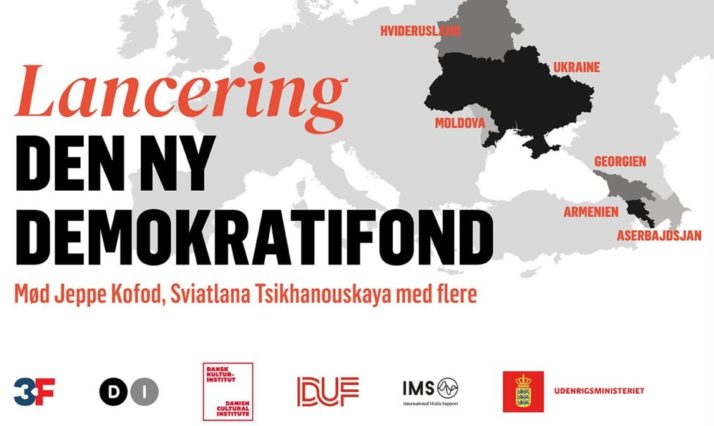 Online launch of The New Democracy Fund
LIVE TALK – Democracies under pressure in the Eastern Neighbourhood Countries  
Participate in the launch of The New Democracy Fund – live on Facebook, Thursday the 18th of March 2021.
Please notice the event will primarily be in Danish.
30 years after the collapse of the Soviet Union there is still a long way to a peaceful, free, and stable society in the eastern neighbourhood countries. Especially in Belarus the situation is critical.
Thursday the 18th of March The New Democracy Fund invites to an online live talk about the current situation in the region.
What is at stake right now? Which efforts are needed?
How will the new fund operate in countries where democracy is under pressure?
And how can The New Democracy Fund help to strengthen civil society through cooperation and financial support?
You will meet:
Minister of Foreign Affairs of Denmark, Mr. Jeppe Kofod
Former presidential candidate in Belarus, Ms. Sviatlana Tsikhanouskaya (live from Vilnius)
Representative of The New Democracy Fund and CEO at the Danish Cultural Institute, Ms. Camilla Mordhorst
Danish photo journalist, Mr. Asger Ladefoged
Through images and real stories, the panel will discuss The New Democracy Fund's work and efforts, where freedom of expression, cultural exchanges, young people's democratic rights and organisation of the labour market will be in focus.
The talk is moderated by journalist and historian Mr. Adam Holm.
The talk is free and open for everyone – participate here.