11 · 08 · 2022
Ukraine's employers fight to feed, clothe, and protect Ukraine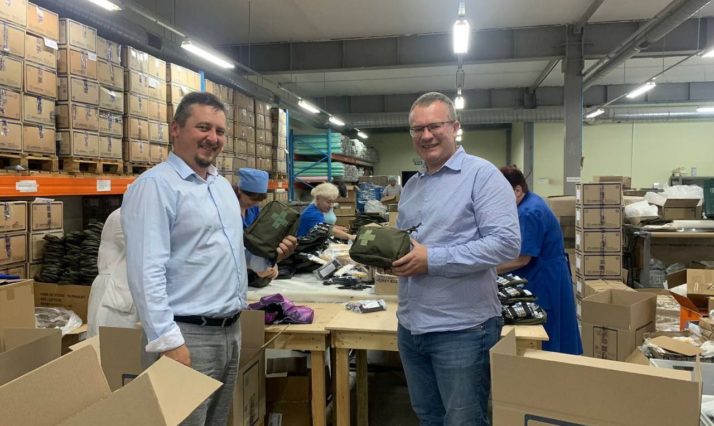 By Peter Helk, senior advisor, Sustainability and Global Development, DI
"Peter, we have a war. Maybe I will move my family to a European country. I will write you later."
Three short WhatsApp texts and a video of missiles hitting targets in Ukraine marked a complete transformation of the partnership between DI and our Ukrainian sister organisation, the employers' organisation the Federation of Employers of Ukraine (FEU).
The texts were sent to me on the morning of the Russian invasion of Ukraine by Ruslan Illichov, the Executive Director of FEU in the WhatsApp chat we normally use to discuss the partnership between the FEU and the Confederation of Danish Industry (DI). At DI, we run development programmes with 18 sister organisations around the world and I manage the partnership with the Ukrainians.
On  23rd February, Just the day before, the FEU had launched a climate partnership, an ambitious effort to apply learnings from Denmark in a Ukrainian context in order to reduce CO2 emissions.
On 24th February, Russia attacked Ukraine.
A years' worth of carefully laid plans were shelved, and the FEU went into crisis mode. Fighting to keep the Ukrainian economy going amidst real danger to life and property.
I have worked for DI for more than 20 years, so I know the important role strong employers' organisation play to create well-functioning societies. But I have never contemplated how important strong employers' organisation are in times of existential crises.
I sat down with Ruslan Ilichov, the Executive Director of the Federation of Employers of Ukraine, to understand the role they are playing during the invasion of Ukraine.
This is what I learned.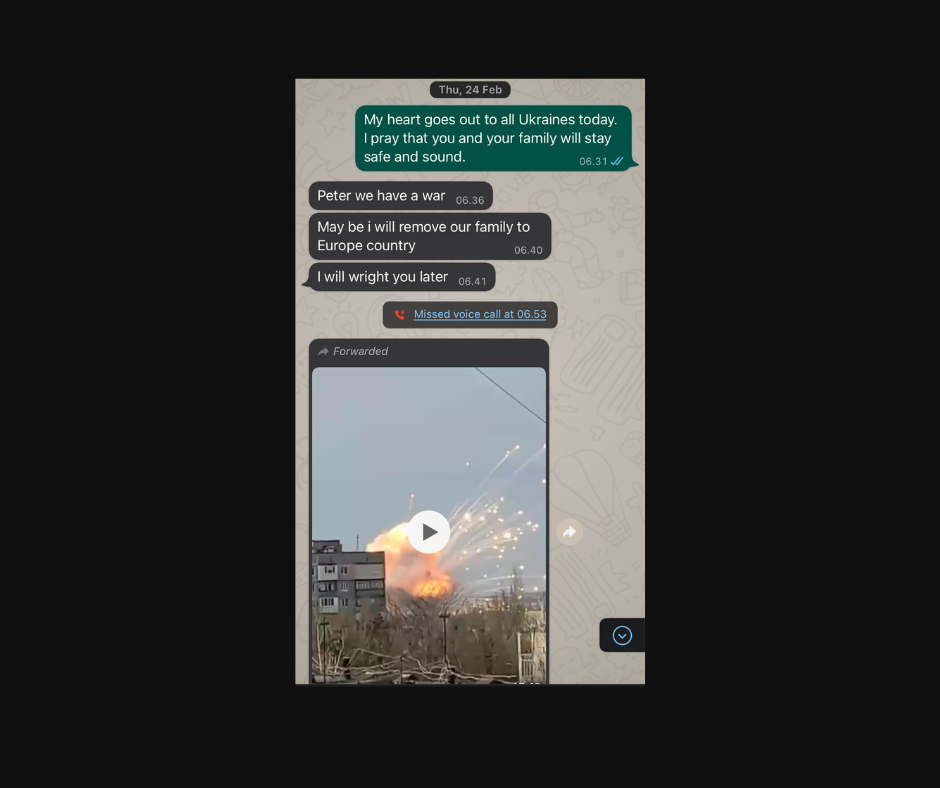 1) Ensure own safety and organise
The invasion was a shock to the FEU. They anticipated a Russian attack, but like most Ukrainians, they did not think that Putin would attack the capital directly and try to take over the entire country. The news of Russian troops marching towards Kyiv were met with shock and urgency as organisations scrambled to put in a response. Employers also have a responsibility to protect their workers and balancing response and safety was hard.
"It was difficult, but our first priority was to be as useful as possible to our employees and to our members", explains Ruslan Illichov
After some deliberation, Ruslan Illichov and his family decided to stay in Kyiv. But that was not an option for all his staff. So, the secretariat scrambled to help find housing in safe regions and arrange for remote work.
The FEU immediately realized the magnitude of the task ahead: As an employers' organisation they had a pivotal role to play keeping the Ukrainian economy working and supporting the private sector contributions to the war effort.
"Our key task was and is to ensure the best possible coordination of work with our member companies."
To do that clear communication lines had to be established.
"On the day of the invasion we gathered our team and got in touch with regional and industry associations of employers to coordinate our actions. The following day, we created a chat for FEU member companies in order to exchange information and unite efforts."
"Our objective was clear from the beginning: We must hold the economic front. This will bring Ukrainian victory closer."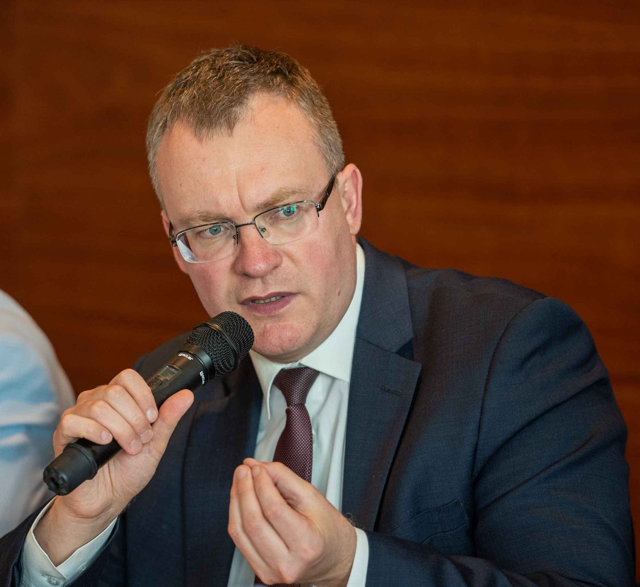 2) Keeping companies running
The economic situation in Ukraine is dire. The government estimates that the GDP will contract by at least 35% this year, as many workplaces have been lost to the Russian invaders, former employees are fighting at the front or have fled the country, and severe gaps in the supply chains mean that many companies can't get raw material.
"Our prime task is to do everything we can to keep the companies running. So we assist them in overcoming the gap in supply chains, renewing disrupted supplies as well as searching for raw materials and components," explains Ruslan Illichov.
Keeping businesses open is essential because they produce essential goods, and because it ensures that civilians can continue to receive their paychecks.
The federation has also played an important role in a largescale effort to move companies to the more peaceful Western regions of Ukraine. They have helped identify suitable new locations and helped companies find new employees among the internally displaced people.
"In the first months of the war, we have helped hundreds of Ukrainian companies continue their work and save jobs."
At the same time, more typical tasks of employers' organisation like counseling members on how to follow the labour code continued to be important to their members. The need for counselling grew rapidly after the government's declaration of martial law which had a large effect on the labour market.
3) Organising help and assistance
The private sector has both the facilities and the know-how to produce and distribute necessary goods. As a focal point between companies and the government, FEU has helped organise the distribution of equipment and assistance.
"Some member companies are producing essential things for the war effort, from medicines and fuel to anti-tank constructions and roadblocks. Others are using their production sites and logistical set-up to provide effective humanitarian assistance for example by producing food boxes that are given out free of charge or delivering aid from international donors."
The employer's organisation has also helped distribute humanitarian assistance. With financial support from the Danish state, the employers' organisation has assisted residents of the regions of Ukraine most affected by the invasion.
Support from international donors has also allowed the federation to start a project where aid is produced in Ukraine. This not only helps civilian receive humanitarian assistance, but also creates jobs in Ukraine.
"The support from Denmark and other countries has been invaluable. And we hope that we can rely on international assistance also in the next phase, the reconstruction of Ukraine."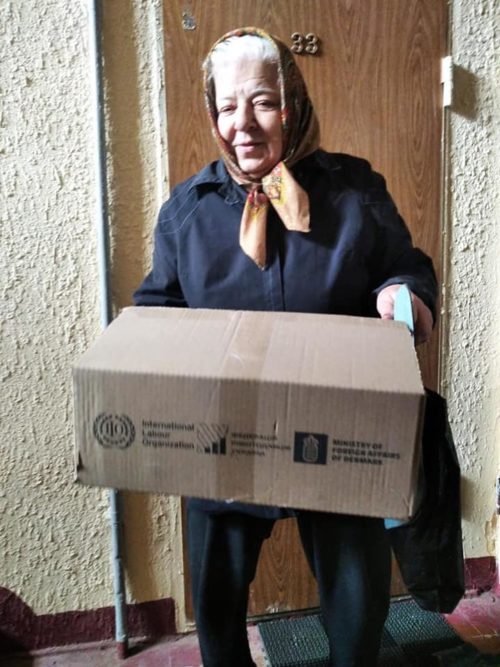 4) Collaborating with international partners
An estimate suggests that the Russian army is inflicting damages worth 4.5 billion DKK per day. But for the employers' organisation, the rebuild is a question of more than reconstructing damaged homes and infrastructure.
"Jobs are our key priority. People who left Ukraine will never return if there is no work for them. Therefore, our goal is to help companies increase production, export, and create new jobs."
The FEU quickly realized that massive foreign support and investment would be necessary for the rebuild, and that their international partnerships could play a key role in facilitating support.
"From the beginning of the invasion, we outlined a plan with our international partners like DI and the International Labour Organisation and set about to execute it. Both the financial and expert help from DI has been very important to us."
At DI, we are working closely together not just with the FEU, but also Danish and Ukrainian authorities, as well as Danish companies like Per Aarsleff and Grundfos who have the capability to quickly rebuild infrastructure for example improved heating and water systems. We try to leverage our knowledge and network and the competences of our member companies to provide help whenever it is feasible.
For Ruslan Illichov, the cooperation with international partners like DI is an essential component of their long-term ambitions.
"It will be very important to quickly rebuild infrastructure. But our ambition is not just to build back what we had, but to use our partnership with DI and its members to make sure that the reconstruction brings us to a better Ukraine with more value-added production and decent jobs."
---
Over the last six months, I have watched aghast as Russian forces invaded Ukraine and committed terrible war crimes, but again and again I have been so impressed by how civil society organisations in Ukraine have responded to the crisis.
At my job, I work every day to make employers' organisations stronger so that they can help businesses and societies prosper. Through this crisis, I have learnt, that the benefit if we succeed is even more important than creating sustainable growth and more decent work opportunities. It also gives societies the strength to fight  back when war and crises roar their ugly head.